Get a Free Polygon Test Domain Guide
To make integrations easier, Unstoppable Domains provides developers with a free test domain. You can use any available domain ending for your free test domain.
To distinguish these test domains from paid domains, all test domains are prefixed with udtestdev-. For example:
udtestdev-freedomainisawesome.crypto
udtestdev-test-wallet-integration.wallet
To prevent abuse, we ask that developers cover the cost of minting and transferring these domains to their wallets. Unstoppable Domains does not make any money from issuing test domains.
info

Polygon faucet offers free money in the form of matic tokens for domains minted on Polygon Testnet.
Step 1. Configure your Metamask wallet for Polygon
Go to Metamask → Settings → Networks.
Press Add Network button.
Fill fields with the following values:
Step 2. Get free MATIC tokens from Polygon Faucet
Step 3: Locate the domain ending namehash for Polygon
You can locate the domain ending namehash using the following list:
0x0f4a10a4f46c288cea365fcf45cccf0e9d901b945b9829ccdb54c10dc3cb7a6f 

=

 

'crypto'

;


0x1e3f482b3363eb4710dae2cb2183128e272eafbe137f686851c1caea32502230 

=

 

'wallet'

;


0x241e7e2b7fd7333b3c0c049b326316b811af0c01cfc0c7a90b466fda3a70fc2d 

=

 

'x'

;


0xb75cf4f3d8bc3deb317ed5216d898899d5cc6a783f65f6768eb9bcb89428670d 

=

 

'nft'

;


0x4118ebbd893ecbb9f5d7a817c7d8039c1bd991b56ea243e2ae84d0a1b2c950a7 

=

 

'blockchain'

;


0x042fb01c1e43fb4a32f85b41c821e17d2faeac58cfc5fb23f80bc00c940f85e3 

=

 

'bitcoin'

;


0x5c828ec285c0bf152a30a325b3963661a80cb87641d60920344caf04d4a0f31e 

=

 

'888'

;


0xb5f2bbf81da581299d4ff7af60560c0ac854196f5227328d2d0c2bb0df33e553 

=

 

'dao'

;


0xa18784bb78ee0f577251fb21ad5cac7a140ab47e9414e3c7af5125e3e1d28923 

=

 

'klever'

;


0xfdb51f7f56d9b1149db5ce99afcf60dda4416fd6fb8dc0649fec13cd03e1803e 

=

 

'hi'

;


0x2acf53593112265ba651274f0e33a6b3fe86f92bbee4d39211540592fde6b0f3 

=

 

'kresus'

;


0xed9ce6b49a0e2c56c57c86795b131bd6df792312183994c3cf3de1516cfe92d6 

=

 

'polygon'

;


0xaf4d61a6acdda7379d6f90207923aeb080994d0f1aaba4b8b24a14f965b2bb7c 

=

 

'anime'

;


0x57ea207b3238a69d8a9a53252de172f2ceae1d856008b13208a203867a707c78 

=

 

'manga'

;
For example, the .dao domain ending namehash is 0xb5f2bbf81da581299d4ff7af60560c0ac854196f5227328d2d0c2bb0df33e553.
Step 4: Write the Polygonscan Smart Contract Request
Go to Polygonscan/Mumbai Smart Contract Page.
Choose Write as Proxy tab.
Connect your wallet (Goerli).
Choose claimToWithRecords method and fill properties with needed values: receiver wallet address, domain ending namehash, and test domain suffix.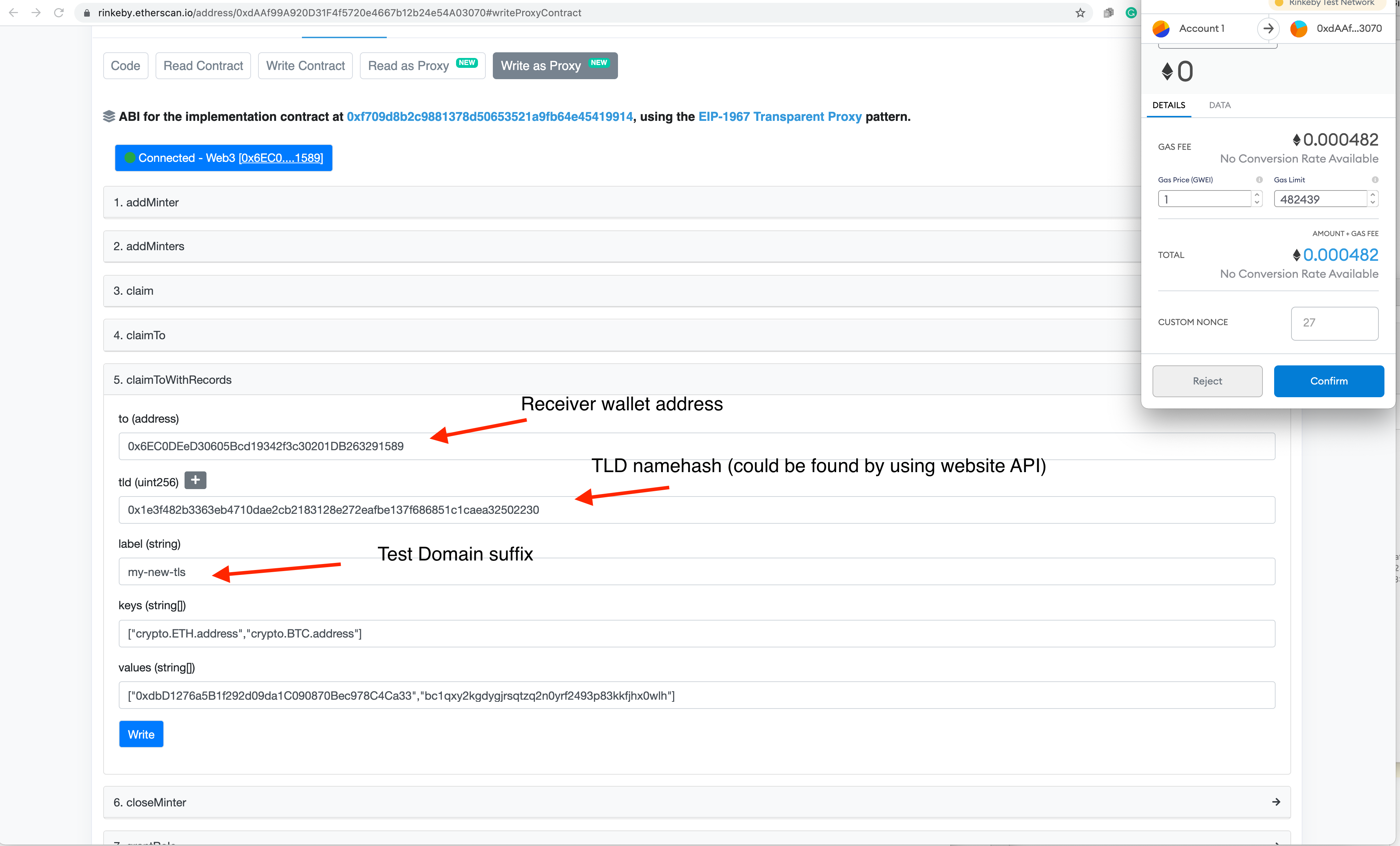 Click the Write button to start the transaction.
Congratulations!

You're the new proud owner of a test domain on Polygon Mumbai testnet. Happy hacking!